The story of Tales in Tiles
Let us introduce you to our Tales in Tiles Experience Store.

In our mind, it is all about getting together and connect while making nice things.

In the bright and welcoming environment we have created, we will treat you some herbal tea and cookies and you can then participate in one of our clay workshops to make your very own piece of art.

Or you can enjoy the exhibition of a Greek artist that we host at the time.

You can make your own choice among a selection of Greek, mainly, creations to take at home for you or as a present for a friend: a ceramic piece, beautiful jewelry inspired by Ancient Greece, a silk scarf with a design of a Greek artist printed on it, notebooks or key chains derived by Greek tradition, board games through which you learn Greek mythology, and many more.

Although the whole idea behind our experience store is to get together, we have now created an e-shop, for those who cannot make it till here, but still want to get hold of our products.

For an enhanced experience, come and join us, whenever you can. It will be our pleasure to have you!

Stavroula, Rossina & Evi
A few year ago, Stavroula left finance to seek a life in the Arts!

She doesn't make art of her own – she keeps saying how lousy she is at making anything with her hands, but whenever she sits down to do something, what comes out is a "masterpiece"!

She, however, spends most of her time trying to dig out "new diamonds" and present them in the store. Either by selling their unique pieces or in the exhibitions she is organizing. She loves that part.

When she is not at the store, you will find her at home with her two kids and Rita, their dog, or playing beach volley with some 20 years younger than herself !
Rossina is the Artist of our company
She is the girl conducting our ceramic workshops – those who attend them vote for her as the best teacher ever!
She is the one behind the Tales in Tiles beautiful ceramic creations – those, who as soon as we put them out, they get sold.
She is an artist with a degree, but, mostly, an artist in her soul – she loves taking life slowly.
Having said that, if required, she can transform herself into the most effective Silicon Valley CEO!
When not messing up with the clay, you will find her in a mountain or by the sea looking at the sunset, in the company of her two dogies.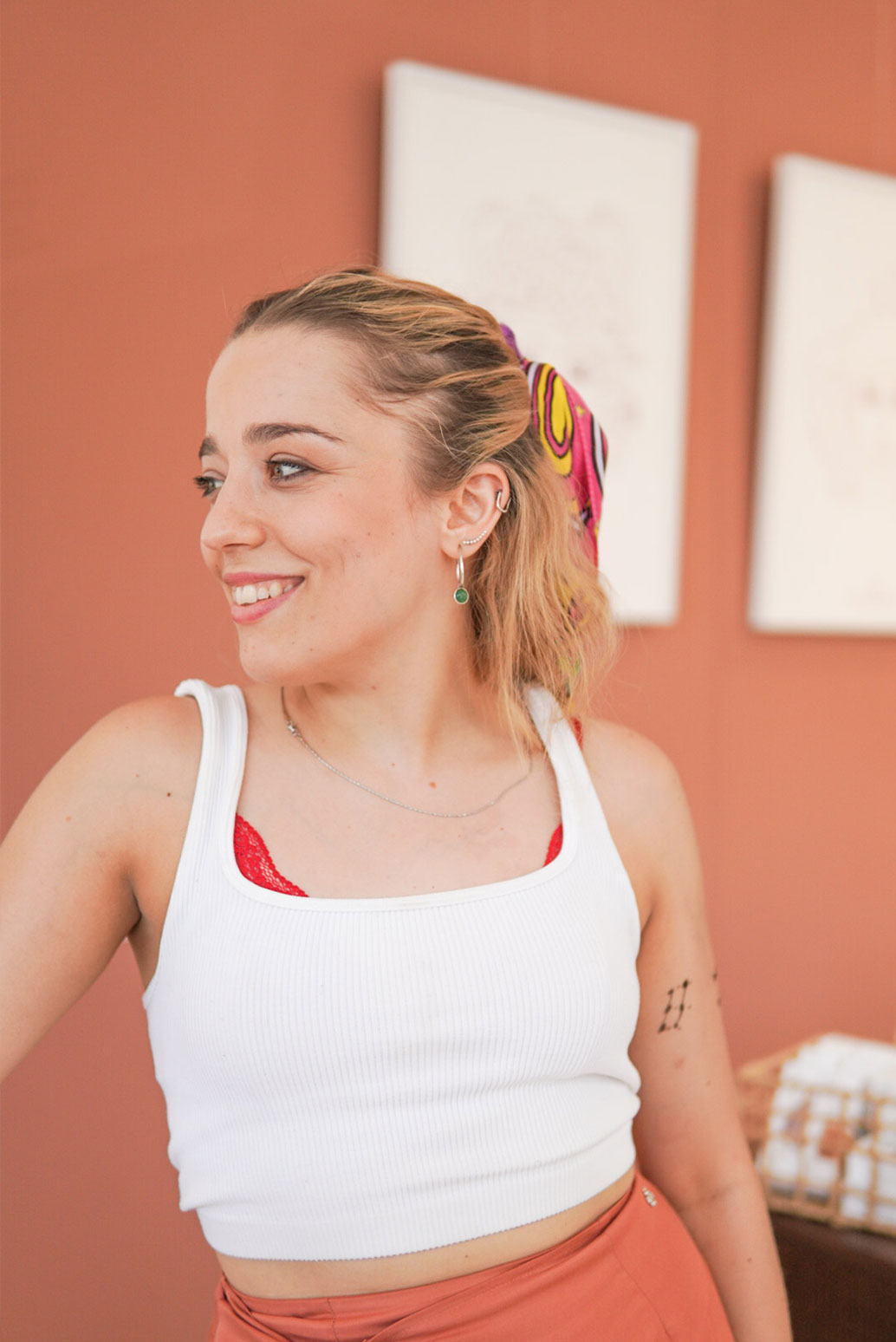 Evi is new to our team. Oh my, God sent her to us. Organization runs into her blood. She goes after the rest of us asking the code of the product that just got sold. All products are now registered in a super-duper program with quantinties, codes, prices and pictures. Amazing! She is here to take over our e-shop too. She will smile and wish you good day in the most polite manner! And in times of crisis, she is the one to always say: "All good". Evi is our secret power girl! When not organizing our store, you will find her hanging from a ceiling – she is an aerial yoga teacher too, or dancing in a live concert – she's probably been to every single one of those in town this summer.